Welcome To River's Edge Yoga
River's Edge Yoga Center, one block from the river in Old Town Alexandria, is a cozy yoga oasis dedicated to the teaching of yoga in the classical tradition.
We offer Ashtanga Vinyasa, Yoga Mom Yoga Baby pre and postnatal classes, Family Fun Yoga and Gentle Meditative Flow classes for all levels.
River's Edge Yoga Center is committed to the philosophies and criteria of the Green Yoga Association.
Greetings from the River
Hope all are holding on to the promise of Spring as old man winter continues to hold on to the region. We will be making some changes to the calendar as we head into the spring.
Our next session of Down Dog 101 will begin Sunday, April 13, 2014 at 1:45pm. The five week series continues through May 18th. Pre enrollment is required.

Down Dog 102 will begin Monday, April 14, 2014 at 5:30pm and continues through May 12th.

Our exploration of the Intermediate Series of Ashtanga Yoga continues in April, Thursdays, 7:00pm. As with the Saturday Intermediate Series class Permission of Instructor is required.

On Hiatus
Joyful Belly Dance and the Monday and Wednesday 6:00am Yoga for Athletes.
In the Community
Carpenter's Shelter Annual Cook Off
Date: Sunday, April 27, 2014
Time: 12:00pm-3:00pm
Location: Birchmere Music Hall
Website: www.carpenterscookoff.com
River's Edge Yoga is honored to support this event through the donation of a gift certificate for 10 classes at the studio. Join in the fun and fundraising by participating in their online auction!
About the Cook Off
Join us for the tasting event of the season! Celebrating its 12th anniversary, Carpenter's Cook Off invites the area's best restaurants to duke it out for awards and bragging rights. Last year, The Majestic walked away with People's Choice award – for the third year in a row! Who will win this year? Don't miss your chance to sample endless tables of delicious food and cast your vote for your favorites.
. . . . . . . . . . . . . . . . . . . . .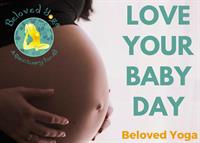 Love Your Baby at Beloved Yoga
Date: Saturday, May 10, 2014
Time: 1:00pm-4:00pm
We've gathered experts in prenatal and postnatal wellness to answer your questions and share information about having a healthy pregnancy and giving your baby the healthiest start in life. Whether you're currently pregnant, thinking about becoming pregnant, or work with pregnant moms, come learn how you can rebuild strength in the postpartum body through adequate exercise and nutrition. Participation is free but pre-registration is suggested. Donations for classes will benefit Women, Infants & Children (WIC).
Visit www.belovedyoga.com for more information!
. . . . . . . . . . . . . . . . . . . . .
Seventh Annual Virginia Yoga Week
Presented by Yogis for Positive Change & the Virginia Yoga Community
Date: Sunday, June 8 – Sunday, June 15, 2014
Visit www.virginiayogaweek.org for more information!
Virginia Yoga Week
A gift of free and five dollar yoga classes and special events in Celebration of the fabulous yoga offered throughout the state.
Karma In the Community
The Winter Food Drive in support of Carpenter's Shelter, King Street Cats and Dogs XL.
Our cozies for critters campaign continues, please drop off used blankets and towels for King Street Cats and Dogs XL.
Many thanks to all for your continued fellowship and support of the studio.
New Students